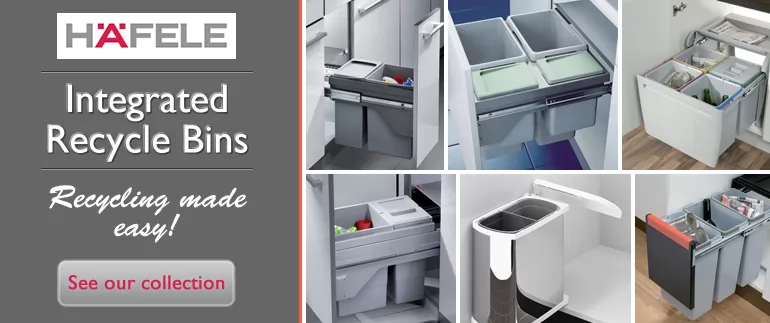 A growing trend for people updating their kitchen is to include an integrated recycling bin in to one of their kitchen cabinets. Especially with the increasing need to recycle it's very handy to have a recycling bin within your kitchen that you can easily separate the different waste into. They also save you the hassle of having to carry it out to the wheelie bins countless time a day.
If you aren't updating your kitchen, integrated recycling bins can still be fitted into your existing kitchen very easily. The two most popular types of kitchen recycle bins we offer are for hinged doors that are fixed to the bottom of the cabinet and the other is attached to the door and pulls out much like a pull out base unit does.
Freestanding bins can take up valuable floor space within your kitchen whereas an integrated kitchen bin fits neatly in to a cabinet hidden by the cabinet door.
Our integrated kitchen bins come in many different sizes ranging from 20 litres to a whopping 85 litres and contain between one and four sections to allow you to divide you waste the eco-friendly way.