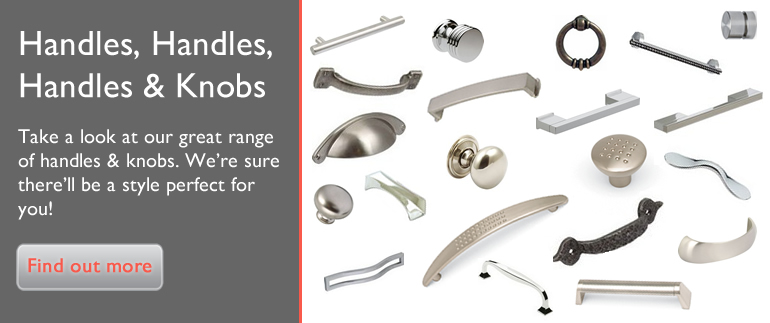 Replacing or refurbishing your kitchen is an exciting time, watching your ideas come to life in your home can bring out a creative side in you that you never knew you had. The choices available for every aspect of the kitchen can become a little overwhelming and choosing the right kitchen door handles can be the breaking point for some. It's the finishing touches that transform a newly renovated kitchen in to the heart of your home.
Deciding on the kitchen handle that is right for you
One of the things that you will certainly need to consider when picking the handle that will suit your tastes and the newly fitted kitchen is the style of your kitchen. Modern style kitchens usually favour kitchen cabinet handles with clean lines whereas handles in a traditional kitchen can be more detailed in their design.
Bar handles and D handles are suitable for both styles of kitchen although this will depend on the detailing involved in the design of the handle and the finish used. Cup handles are usually used in traditional kitchen and can look very effective when fitted to a wood or painted door.
The finishing touches to the finishing touches
Your kitchen has many different material finishes. From wooden or tiled floors, wood, painted, gloss, stainless steel and aluminium plinths, solid wood, acrylic, veneer, vinyl doors, worktops in numerous colours and materials makes it fairly easy to choose a finish of handle that ties in to the rest of your room.
Our kitchen door handles are available finishes such as stainless steel, acrylic, aluminium, brushed nickel and polished chrome. The most important thing to remember is that it is your kitchen and your decision. Ones person choice may not be another person's choice.
Big or little, long or short?
There are a large percentage of our kitchen cupboard handles that come in numerous sizes. The height and width of your doors can be one factor to consider. You don't want the door handle to be too over-facing nor do you want it to look 'lost' within the door.
Why not browse our kitchen handles below to find the handle to finish off your new room. We are constantly adding new styles and designs, if you would like to keep up to the latest news from CP Kitchen Components why not sign up to our newsletter below.