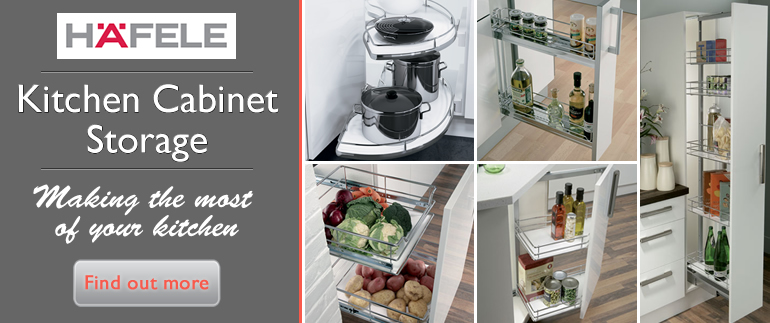 There are many ways in which you can increase the amount of storage space within your kitchen. Kitchen cupboard storage has really evolved over the years and now includes many different solutions to maximize your kitchen cabinets and drawers storage capabilities.
Kitchen drawers have always been a great way to store items as they allow easy access when the drawer is opened. Pull out base units fitted inside kitchen cabinets effectively does the same thing as a drawer as the items stored inside the cabinet are pulled out from the unit when opened.
Larder units are another example of how kitchen cupboard storage can be increased, as too can accessibility. Pulling out the larder unit allows you to access absolutely everything stored in your tall kitchen cupboards, no more items being forgotten about at the top of the unit on a shelf that you cannot reach.
Kitchen cupboard storage comes in many different forms. The Orga-line range from Blum, specifically designed for Blum drawers the line includes beech cutlery trays , knife trays, pierced bases with pegs (great for storing cutlery neatly in your kitchen drawers).
The Le Mans pull out system is a clever storage solution designed for kitchen corner cabinets. It utilizes the space within of the cabinet that is usually the hard to reach.
There are numerous styles of pull out base mechanisms for your kitchen which will not only help to keep your cutlery, food and utensils organized but also within easy reach.
Pull out spice racks are a clever addition to any kitchen, fitting neatly in to a slim 15cm kitchen base cabinet they'll keep your spices nice and neat and within easy reach when cooking.
We are constantly adding new products to our kitchen storage section. If you would like to keep up with the latest offers and new additions to our kitchen cabinet storage section then why not sign up to our newsletter below?