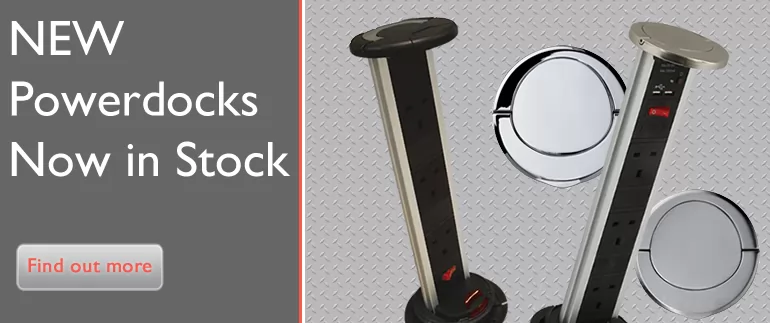 There are situations where having a plug socket installed in an accessible place just isn't possible. For instance, on a kitchen island you may not want to have a socket installed on the side of the island as this would mean that the cable hangs over the side and could cause potential problems especially if you have young children.
Perfect for When Power isn't Always Needed
Powerdocks are the perfect solution. They are ideal for when a power source is only required intermittently and appliances such as food processors, kettles, blenders etc on kitchen islands are a great example of this. Having a pop up socket installed into the worktop means that the cable is safely sat on top of the worktop rather than hanging over the side. When the appliance has been used and put away the powerdock can be pushed down leaving a clean flat surface.
Pull-up sockets are also ideal for use in home offices where electrical sockets haven't been installed in convenient places and you would rather not have an electrician make a mess of you nice flat walls. Easily installed pops up sockets sit within the desktop and is plugged in to the socket below.
Another great use our pull-up sockets provide is USB ports which allows for charging of mobile phones and once the phone is charged the pop up sockets simply pops down and out of sight.
Another area of the home our pop up sockets can be installed is in bedrooms. Fitted in to desk tops or bedside cabinets, phones and laptops can be charged with ease.
To view our selection of pull-up sockets then please click here.