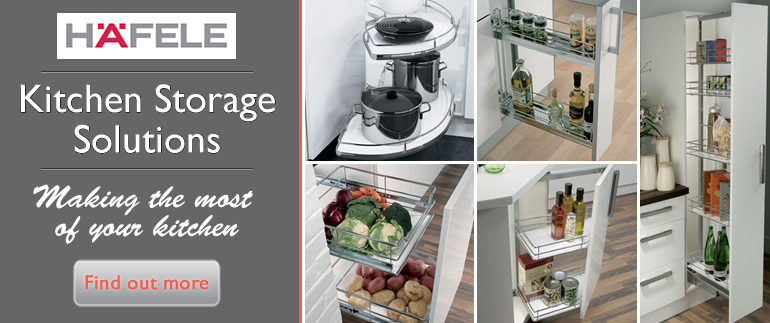 No matter the size of your kitchen you can never have enough storage. Storage is usually of short supply in any kitchen. Stacking items on top of one another is usually the only way to make the most of the space available. But this isn't the most practical solution as it means you tend to be constantly moving things around to access the one plate, pan, tin or box underneath.
Spending the time to plan out the space within your kitchen will pay dividends in the long run. Thinking carefully where your utensils, cutlery, recipe books, food bottles etc. can go will not only help you maximize the space within your kitchen but will also increase the functionality of your kitchen.
It's a good idea to think how you will use the space with in your kitchen. For example when standing at the hob its best to have pans and cooking utensils close to hand as well as your seasonings and spices. In close proximity to the oven baking trays should be stored and underneath the worktop which you use for serving your cutlery.
At CP Kitchen Components we have a wide selection of kitchen storage solutions ranging from pull out spice racks, magic corner solutions and pull out larder units to cutlery tray inserts, pan drawer dividers and recycling bins. Within our online store you will find storage solutions for every cabinet with your kitchen that will not only make the most of the space within in your kitchen but will also ensure that accessibility is improved.