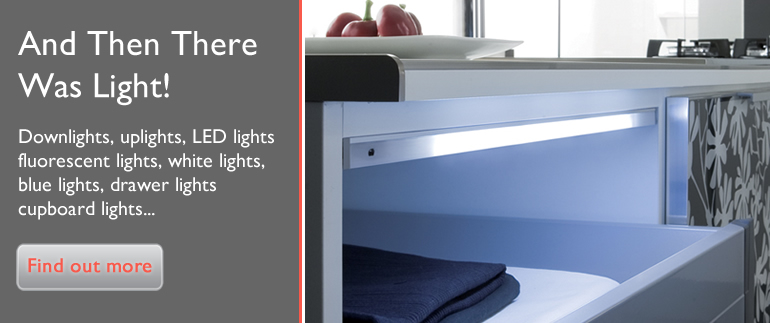 In recent years LED kitchen lighting has transformed the lighting industry. Due to the low running costs of LED lights and the long lifetime (on average LED lights run for 50,000 hours!).
One of the big advantages of LED lighting is it comes in many different forms, such as down lights, cornice lighting and even on a roll with self adhesive backing it can be used in various ways. Adding LED lighting to the plinths will help create a feeling of space within your new kitchen as will lighting areas that are usually full of darkness especially above tall units and wall cabinets.
Manufacturers of kitchen lighting have been quick to act on the demands of the customer and have redesigned popular lighting designs that were originally made to take halogen bulbs, which had a reputation for blowing bulbs on a regular basis and were costly to replace and run.
For the more adventurous, colour changing LED lighting is and can be controlled using a remote control. This is a great feature to have in your kitchen if you entertain often. Using warm white for practical times and once the party starts you can use the remote to change the colour to match the mood from red, blue, green, yellow, orange…the choice is yours!
When planning lighting in your kitchen one of the best approaches can be to break it down in to two parts. The lighting in work areas fitted to aid visibility should be placed in positions such as the underside of wall units. The kitchen lighting here will shine on to work surfaces to ensure that you have a clear view of what you are doing.
We have a great selection of LED lighting available to buy today online. If you would like to be kept up to date with the latest products including kitchen lighting and special offers then why not sign up to our newsletter below.