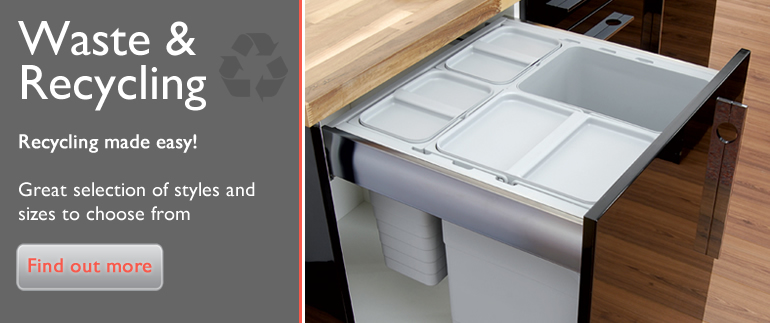 Recycling of household waste is an issue in every home. Having to remember what rubbish goes in what bin and what bin goes out on what day can be a nightmare. And that is without mentioning the constant trips to the bins outside removing the waste collected on the worktops during the day.
One simple way to help make the process of recycling easier is to install a kitchen-recycling bin in to one of your kitchen cabinets. Recycle bins for the kitchen have been specially designed to fit in to various sizes of kitchen cabinets and are made to suit hinged doors or with doors fixed to the bin mechanism.
The size of bin required is really up to you decide, but bare in mind the size of your family and the amount of recycling waste you accumulate on a daily basis.
Our pull out waste bins come in various sizes so we are sure there will be one to suit your needs and a cupboard within your kitchen. Pull out under sink bins fit to the bottom of the cabinet and directly underneath your kitchen sink.
If more recycling space is required and an under sink bin won't fit your needs then the Euro Cargo line of bins will surely suit your requirements. Designed for cabinets ranging from 45cm to 60cm and have a whopping capacity of up to 84.5 litre's will guarantee that you make less trips to your outside bins and your kitchen will stay free from rubbish.
The sorting of your recycling waste in to different groups is made easy by the separate containers with in the pull out waste bin. If you are looking for a new pull out waste bin then head over to our kitchen waste and recycling section. We have a great selection of recycling bins on offer.