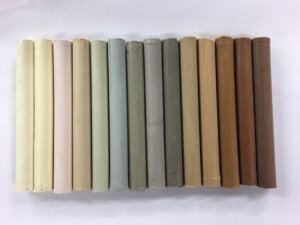 H3704 Tobacco Walnut Colour Matching Wax Stick
Our H3704 Tobacco Walnut wax stick is the perfect colour match to the H3704 Egger board. Repair small chips and scratches easily with our exclusive range of colour matching wax sticks. We have 14 colours including Cashmere, Vanilla and Mussel.
No longer do you need to buy a variety pack of 20 colours only to find none of them are a match! Our Proline colour matching wax sticks are made to the exact colour of Egger MFC so you can be sure the wax you buy from us will do the job you require.
Proline wax filler sticks are made from a soft wax and are the ideal solution for filling chips, splits, cracks and holes
Each Proline wax stick measures approximately 10cm x 1 cm x 1cm
Proline wax sticks are colour matched to Egger's laminated board
14 colours available from stock
– U100 Mussel
– U104 Alabaster
– U108 Vanilla
– U116 Jasmine
– U702 Cashmere
– U708 Light Grey
– U717 Dakar
– U727 Stone Grey
– H1342 Montana Oak
– H1521 Natural Maple
– H1582 Beech
– H3368 Lancaster Oak
– H3703 Aida Walnut
– H3704 Tobacco Walnut
Other colours are available (14 day lead time)